This popped up on my Facebook feed yesterday.
So here are the books for each of the options. Sometimes I'll overlap two options into one book, sometimes not.
A book published this year
Well, there aren't many books that have been published this year, since the year is just beginning. So for now, let's skip this one and come back to it later.
A book you can finish in a day
A Year in Japan by Kate T Williamson

I received this book for Christmas this year. At first, I had assumed this book to be similar to ones like Japanland by Karin Muller or Learning to Bow by Bruce Feiler, as in an autobiographical novel presenting chapters in chronological order, much like your typical novel/memoir. But upon opening this book for the first time, I found that it was more along the lines of an adult picture book.
No, it's not porn. Get your head outta the gutters, Gaston.
I mean that it is literally a picture book for adults. Pictures (or rather, cute illustrations of aspects of life in Japan) are presented alongside anecdotes and explanations. Because of the abundance of pictures and whatnot, this is a book that I could finish all in one day.
Although if you think about it, I'm the kind of person who read Harry Potter and the Goblet of Fire in a mere two hours, and Harry Potter and the Deathly Hallows in four, so most of the books on this list would be a one-day venture.
A book you've been meaning to read
EVE: The Awakening by Jenna Moreci. This is the debut novel published by Jenna last year. I came upon her Youtube channel randomly and found her to not only be funny, but also good at giving tips and advice for writers. I became a total Jenna Moreci fangirl before even buying her book. But I did finally get around to buying it, and it's been sitting on my bedside table for almost a month now without my even touching it. It's a big book, and I got rather intimidated when I found out that it was one of seven books she was planning to write about Eve. (Does she plan to be the next J.K. Rowling or something?)
But I figured that I should read it. Truthfully, I have already read the first few chapters, but I had to stop at one point because it felt like a total POV jump. Of course, it wouldn't have read this way to anyone who isn't a writer themselves, and then only to a small subset of us who have a VERY VERY discerning eye. But after that, I just kind of lost faith in Jenna for a while, that she didn't notice this crucial blunder the entire time she was writing or editing it. But I shall finish it.
A book recommended by your librarian or bookseller
To be honest, I don't actually talk much to the librarians or shopkeepers when I go to a library or bookstore. Even if I go to a different bookstore, unless it's absolutely impossible to navigate (I'm looking at you, Alexander's Books), I'm able to figure out where I need to go to find the book(s) I want. If I remember to do so, I'll ask next time I go to the library.
A book you should have read in school
Wuthering Heights by Emily Bronte. This book was assigned in my tenth-grade English class but I don't remember actually reading it in its entirety. (I'm sorry, Ms. Vigna!) I only read the chapters we were ever tested on, but from what I remember, it's a beautiful love story. So I figure that since I still have my copy of the book from way back then, I should read it from cover to cover like I was supposed to.
A book chosen by a spouse, partner, sibling, child, or BFF
Well, I don't have a spouse or a partner, and I definitely don't have children, but I'll have my brother recommend a book to me. I'll post again here once he's told me his pick.
A book published before you were born
Technically, Wuthering Heights would also fall under this category, but that would just be a cop-out. So instead, I've chosen a different one that I've also been meaning to read for a while.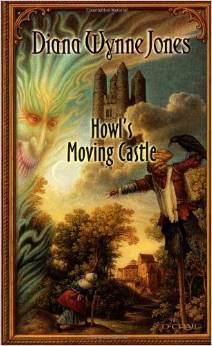 Howl's Moving Castle by Diana Wynne Jones. This book was first published five years before my birth, so it does count. This also inspired the Studio Ghibli film of the same name. I love the film and have seen it many, many times. It's one of my favorite Ghibli movies, and one of my favorite movies of all time. I've always toyed with the idea of reading the book, but I've never gotten around to it.
A book that was banned at some point
I'm going to see if I have enough courage in me to read this one. The Claiming of Sleeping Beauty is the first in an erotic quartet series by writer Anne Rice, writing under a nom de plume, and the (back then, it was still a trilogy) trilogy was banned in the 1980's when pornography was viewed as a "violation of women's rights." (Give me a break!)
The reason I'm not so sure about this one is I think I ran into it a few years ago at the thrift store but didn't know what it was back then, so after reading the first page or so, I felt extremely dirty and didn't end up reading it. I'll pick it up next time I'm at the library, but if I can't make it through the whole thing, my backup will be The Canterbury Tales by Geoffrey Chaucer, which was banned in Illinois briefly for sexual content.
A book you abandoned
Swallowing Darkness by Laurel K. Hamilton. I picked up this book for fifty cents at the thrift store (not bad, considering it was the hardcover edition and looked brand-new). I figured, why the heck not buy it, since it was only fifty cents, and if it sucked, no harm, no foul. It's been sitting on my nightstand for almost an entire year – I stopped at chapter six or seven, I believe, and I've never gone back to it. In fact, most of the books on this list are ones I've had sitting on my nightstand and haven't gotten around to reading. But it's an urban fantasy novel with a touch of sexual undertones (let's face it, in the first chapter, our main character is in the hospital because she was raped, and she's pregnant with her lover's baby. Oh, and did I mention that she's pregnant with two babies by different fathers?)
A book you own but never read
I have quite a few of these sitting around. I was considering designating Fight Day!, which is book two in the series Shakugan no Shana. This series of light novels, written by Yashichiro Takahashi, inspired the anime and manga by the same name. Although I haven't finished the anime yet, I'm currently watching it, and I found the first two translated novels at a used bookstore when I went on vacation last year to Hawaii. I read the first one and never read the second one, but I'm going to designate this one instead:
The Tale of Genji as translated by Arthur Waley. I bought this version years ago, intending to read it, but found it rather archaic in comparison to what I was used to reading, so I never got past the first chapter or so. But I've always been intending to read it eventually, and 2016 will finally be the year I read this book.
A book that intimidates you
There are very few books in English that actually intimidate me, except for Tale of Genji. So ladies and gentlemen, it's cop-out time!
Ginban Kaleidoscope, volume one: Road to Dream written by Rei Kaibara. I watched this anime for the first time a few years ago and fell in love with it: the artwork, the music, the plot, the characters, and even skating itself. This anime marks my obsession with figure skating. After this, I watched the movie Ice Princess (which is a movie about figure skating), and even bought the Nintendo DS game Imagine: Figure Skater. And after learning that the anime was an adaptation of a series of novels, I bought the first volume on Amazon.
Ginban Kaleidoscope translates roughly to "Kaleidoscope on the Ice," about a sixteen-year-old figure skater named Tazusa Sakurano, who is a shoo-in for the Olympics figure skating event. One day, she falls during a competition and is possessed by the ghost of Pete Pumps, a sixteen-year-old Canadian, who must possess her for 100 days before he can go to Heaven. The reason it intimidates me is because it's all in Japanese. Aside from reading Ten Nights by Natsume Soseki, Shisei by Junichiro Tanazaki, and The Wall by Abe Kobe in my Japanese lit class, where I had the guidance of my professor to help me interpret the text, I've only ever read manga and picture books in Japanese. I've read the first page and the amount of kanji on the page is scary, but I want to read this book so bad, so I'm going to challenge myself to read it this year.
A book you've read at least once
The Lord of the Rings trilogy by J.R.R. Tolkien. I have the three-volume set and I love this book. Technically, it's three books instead of one, but since it's all one volume, I consider it to be one book. This will be my lowest priority among the other books I want to read this year, but I haven't read it in years and have been getting the hankering to read it again.
I've also recently gotten a Goodreads account. Follow me, ask me questions there, and add my book to your "to-read" list!
That is all for now, my dear readers. Perhaps I'll post reviews of some of these books after I finish them. But for now, may your swords stay sharp!乙女